BIG Led Screen for Virtual Productions
Virtual productions have taken a 360-degree turn by incorporating technological elements such as LED screen panels. These tools make it possible to create realistic virtual scenarios, minimizing recording time and costs.
Generating an immersive environment is essential to improve the quality of the actors' performance. LED screen panels for virtual productions far exceed the quality of traditional chroma keyboards. In addition, by incorporating projection and camera tracking configurations, the integration between the physical and virtual elements of the set is completely organic and natural. 
LED wall film production allows directors to make adjustments in real-time

without having to wait for post-production.

The

image refresh rate and pixel density

of the panels allows the graphics to be updated smoothly and sharply.

This is the best technology for live broadcasts because it allows the creation of sharp and

very realistic backgrounds

.
Utilize the technology of LED stages to make your productions better
LED virtual production video walls have become increasingly popular because they solve many of the problems that can arise in production. They project very realistic images and can be used in a number of different productions. They are also easy to use and install on any film set.
Visual LED screens are

eco-friendly

because their energy consumption is considerably lower than many other projection systems. It is not only about better quality productions, but also about the optimization of energy resources.

At Mirackle we create audiovisual solutions with

4K resolution

.

Our LED walls can be adapted to a wide range of mounts to be installed on the wall or on the floor of a film set. They can also be installed on suspension bars which work very well on live recording sets, film studios, music stages, etc.

Natural landscape recordings no longer require all the equipment to be moved out of the studio. With a set of LED screens, all types of outdoor scenery can be recreated quickly and conveniently.

With innovative technologies such as the

Unreal engine

, the screens can be aided by specialized software to simulate and follow the movements of the filming cameras and generate the real perspectives of the transmitted backgrounds. 
Find out more about our LED Wall for Virtual FX Studios
The great thing about virtual stages is that there are different models to suit every need. Some recordings or productions require outdoor LED panel models or indoor LED screen models. 
In addition, viewing angle, viewer distance, and pixel density are critical in choosing the ideal model for each use.
P1.9MM

. 1.9mm pixel pitch, 640 x 480 x 75 mm size 25.2″ x 18.9″ x 3″, 4K resolution, 3840 Hz refresh rate.

P2.9mm

. 2.9 pixel pitch, 500 x 500 x 75 mm size 19.7″ x 19.7″ x 3″, 4K resolution, 3840 Hz refresh rate.

P3.99mm Double

. 3.9mm pixel pitch, 500 x 1000 x 75 mm size – 19.7″ x 39.4″ x 3″, 3840 Hz refresh rate, 50W power consumption per panel.

P5mm

fixed. 5mm pixel weight, size 960 x 960 x 150 mm 37.7″ x 37.7″ x 3″, refresh rate 3840 Hz, power consumption 50W per panel.
The advantages of going with Mirackle
At Mirackle we specialize in LED panels designed to reproduce images with the best resolution. The film, television, and audiovisual production industry has left behind the chromas to use Virtual production sets. For this and much more, is that we offer you:
3-year warranty on all our products.
Service throughout the USA.
Turnkey solution.
Easy and practical installation.
Ground mounting system.
Technical assistance.
Front support with magnetic modules.
High refresh rate.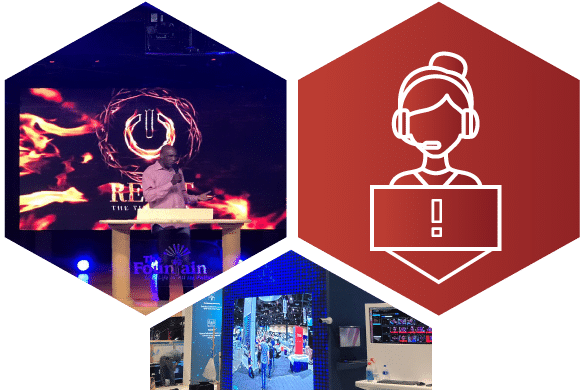 Recomended Mirackle LED Panels for Virtual Productions
We are market leaders in the
LED Video Wall for Virtual Productions