LED display solutions for sports and entertainment
Shows and sporting events are moments that people enjoy and, with today's new technology, LED displays offer features that we cannot overlook when comparing them to the almost obsolete LCD screens:
LED panels have

better picture quality
Power consumption is lower

, even for long periods of use.

Contrast and brightness are not affected by daylight

.

Installation is simple

and the modular configuration allows

customization in different sizes
Their use in broadcasting eliminates ghosting thanks to their High Refresh Rate
LED screen packages for stadiums & events
Sporting events are a great spectacle and gather more and more people to enjoy them. With the technological advancement, the LED Video Wall for Stadiums is superior and offers features such as:
Its outdoor P5 LED panels have an image quality of up to 4k and are IP65 certified, dust and water-resistant, ideal to withstand any weather.
Also, indoors they have a lower power consumption than LCD screens.
They are much thinner, saving installation space.
The contrast and brightness of LED panels are not affected by sunlight.
Spectators will be able to enjoy the event without missing any detail, no matter from which angle of the stadium they are watching it.
Why an LED Wall is the superior option for use in entertainment settings
The Modular LED Video Wall Panels are the chosen ones for sporting events such as baseball, ice hockey, soccer, e-sports, etc., for their multiple features and thanks to their easy configuration and use, from live broadcasting in every corner of the stadium, its use to display statistics or other details of the event, and even advertising. Stadiums such as SoFi Inglewood in California, the Allegiant Stadium in Las Vegas, Mercedes-Benz Stadium in Atlanta, the Toyota Center, home of the Houston Rockets of the NBA, or the Churchill Downs Racetrack, where we can also find LED screens in their gift shop, recreation areas or even in museums of the stadium. The versatility of its software achieves an ideal symbiosis between the live event and ancillary information to enhance the sports experience.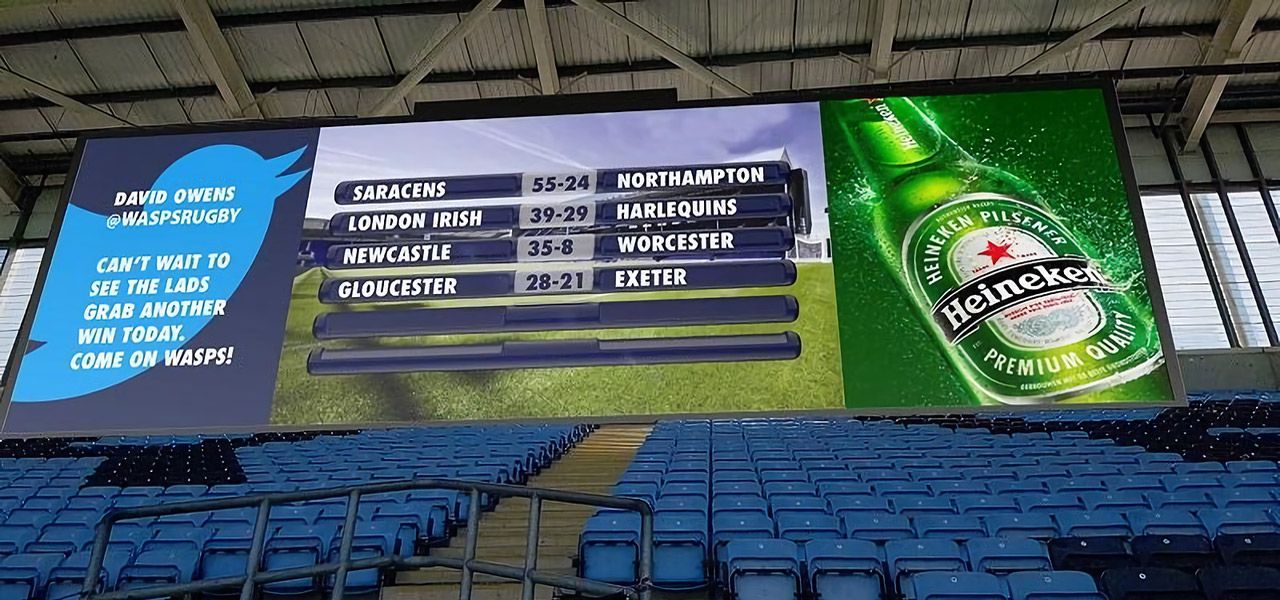 Comparison of LED displays with Jumbotrons
While many stadiums use screens such as Jumbovision or Jumbotron, LED Screen Panels offer some improvements in contrast to this type of technology that makes the difference when enjoying special moments in each event, some of its features are:
They have a

higher range of colors with deeper contrasts

.

By having a low energy consumption, they contribute to the

care of the environment

.

They

adapt to any size

and are thinner.

Their

resolution is 45 times higher

, offering sharper images.

They allow long periods of continuous use

, with a longer useful life
Nearby expert LED wall panels company
In Mirackle we strive to provide products of the highest quality and a complete service, both in terms of advice when consulting us for the product you need, as well as after-sales service, installation, and configuration of your new product:
We are a company that sells the most reliable products in the market.

We advise you throughout the purchase process, resolving all your doubts so that you get the product you need.

We offer

financing plans

that adjust to all budgets.

We offer a

specialized technical service

, both for the installation of your product and for the configuration of all your audiovisual content.

We have a

continuous maintenance service and repair or replacement

, if necessary.
All our products are guaranteed for up to 3 years.